Portable File and Media Encryption Tool
Download FREE limited edition
Premium Version includes build-in photo viewer, video player and text editor for direct viewing and editing encrypted files





CrypTEA is a portable file encryption tool for Windows and encrypted media viewer.
It can password protect any sensitive files and document. But unlike most of the similar tools, it can directly play encrypted video and audio files, preview encrypted images or even edit encrypted text and source code, all without the need to decrypt them first.
The viewers are integrated within the app itself, without any dependencies and without leaving traces on the host computer.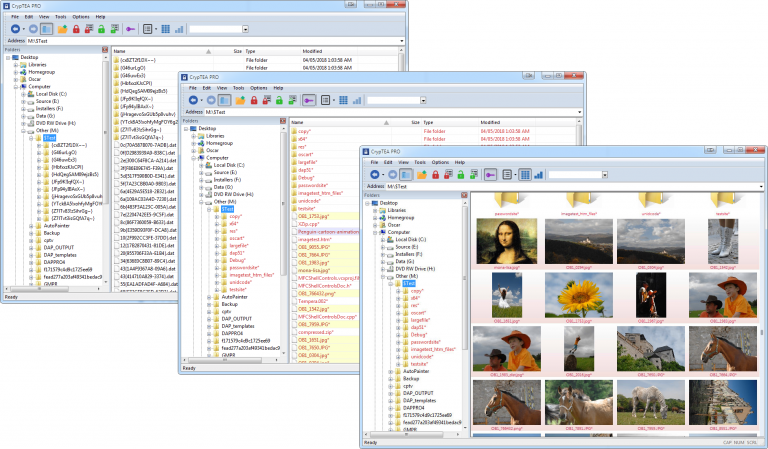 Once encrypted,  the files will look to malware, ransomware, black hats or forensic tools like any random bits of data without any way to determine if they are valuable. We use research proven double chain random seeded algorithm that is free of any patterns and irreversible without password.
Some encryption tools leave file names in full plain view!
The security of your data would be drastically compromised if they advertise what they have locked inside! A ransomware or data thief may not care if your files are encrypted or readable, only if they seems to be valuable to you.

CrypTEA has build-in secure viewers for most formats and once you enter the password you can directly preview encrypted texts, photos, videos and sounds without decrypting them first.  You can as easily preview hundreds of  your encrypted images at once as thumbnails. (PREMIUM feature)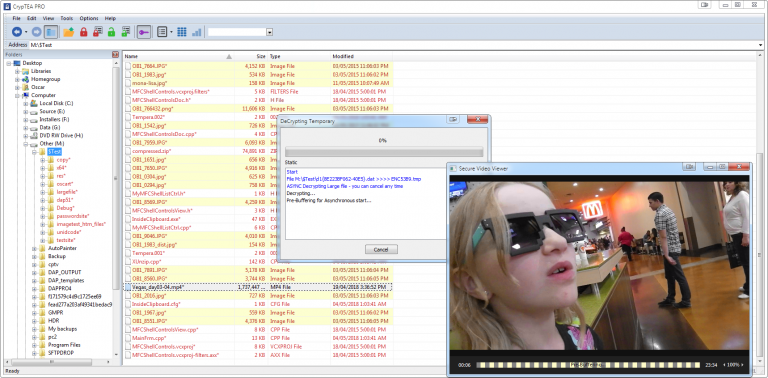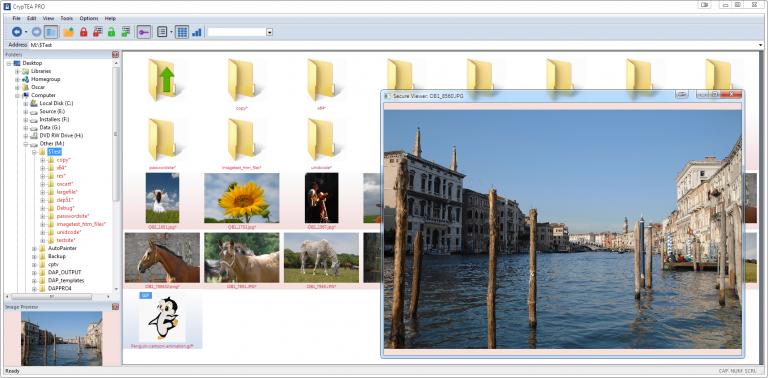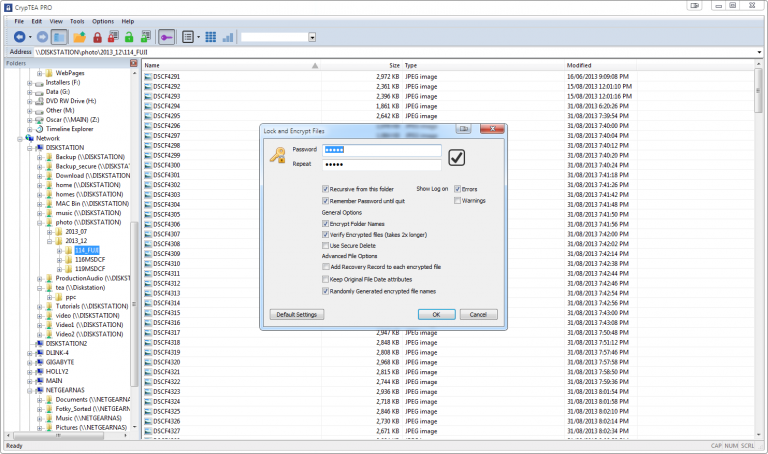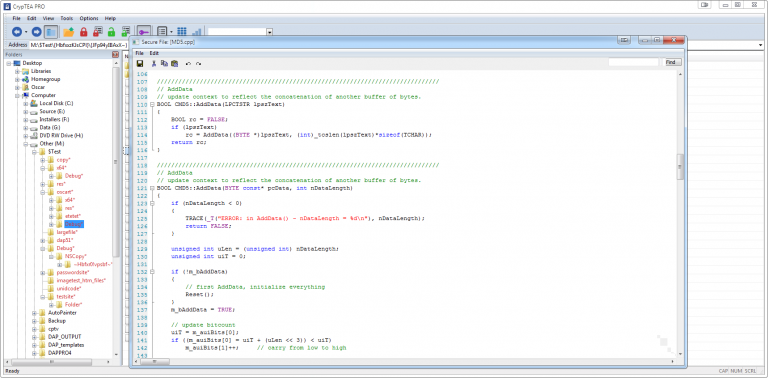 Zero Trace Images and Thumbnails
The build-in image viewer supports all common image formats including animated GIFs and can preview encrypted images directly without leaving any traces on the host computer.
With correct password you can see thumbnails of encrypted files.

Double-Clicking on the encrypted video in CrypTEA will launch internal video player and start playing the video within few seconds without waiting for it to be fully decrypted first.

Recovery Block, Cloud files and more
Recovery block will add a parity data to the encrypted file and in case of file damage (disk error) you have much bigger chance to recover the file.
Choose between random encrypted filenames or static encrypted names. Random filenames used together with "Keep Date Attributes" allows for simple versioning, keeping multiple encrypted versions of the same file. On the other hand static filenames are great for Cloud storage where you want a new version of the same file to overwrite old one.
No Back-doors

, No Activation, No Jumping Through Hoops
The topic of back-doors in security tools is a topic for long discussions and while we have no knowledge if other security tools may have any back-doors or master key implemented, we can say for sure that ours simply doesn't. The files can be decrypted only with a valid password and the password cannot be reversed or extracted from the file itself. There is no way for us or anybody else to unlock your files by some "master key". It doesn't exist and the encryption simply doesn't work that way.

Buying CrypTEA Premium version allows you to use on all of your computers and require no activation so it always remains fully portable and fully functional and it can be used for example from a memory stick. There is no subscription, once purchased you are licensed for life time.