Overview
Overview
This is not your ordinary photo-to-painting effect! Instead of changing the pixels of the photo itself, DAP uses the input image only as a guide to paint the scene with many different brushes and guided by real-world artists inspired techniques.

"Dynamic Auto-Painter delivers brilliantly on its promise of real art in short order – and at an excellent price" Review PC PRO 2011
"In a nutshell, Dynamic Auto-Painter not only emulates the technique, but also the way different painters would see the same scene"
Looks like painting from a distance
One thing that puts DAP above others is that the output images will look like a painting even in small size (for example resized on web or looking from a distance when printed). This is usually a common deal-breaker with all automatic filters which when resized down will look only like a processed photo.
Looks like a painting up-close
Looking at the details you may think we are showing you a real canvas. And in some sense it is actually true. There is an option in the software called Real Canvas that simulates the way a real canvas or art paper interact with the paint. There are enough details even for a large poster print.

Never paints the same image twice
Not only you have different painting styles, you can choose different impressions and palettes. However, even with the same settings the brush strokes will differ from one image to another as would do with a real painter.

We spent years of researching the technique of famous impressionist painters in order to be able to closely mimic their style of painting, something which has never been successfully done in an automatic computer painting program before.

It doesn't stop with the preset styles, there is a community of people producing and sharing their own styles. If you feel adventurous, you can also make your own.

Go PRO
The professional 64bit version adds additional tools and newly developed HD presets for ultra realistic complex details and brushworks. With the right subject it is capable of producing large, highly detailed paintings that look real and organic even when "pixel peeping" while still keeping a distinguishable style of a real painter.

With the Material and Real Lights in the professional 64-bit version the canvas becomes truly alive with scratches, dried paint and bumps. Great for application where close-up detail is important such as very large prints.

New PRO x64 3.1 version can apply multiple overlays such as paper textures, signatures or realistic frames on the painting.

"The Dynamic Auto-painter is highly addictive."
But don't just take our word for it, check out the gallery and download trial version.
Comparison
DAP x64 PRO is an advanced professional version for 64 bit windows Vista and Windows 7 that adds special tools and enhancements for enhancing details and creating large poster size paintings.
DAP Standard works on both 32-bit and 64 bit windows.
Both software can be used to produce output for both personal or commercial purpose.
Comparison table
| | | |
| --- | --- | --- |
| Features | DAP Standard | DAP x64 PRO |
| Works on 64 bit Windows | | |
| Works on 32 bit Windows | | |
| Standard Templates | | |
| HD templates | | |
| High Resolution output for Posters | | |
| Material and Lights | | |
| Overlays, Signatures and Frames | | |
| Canvas Designer | | |
| Plug-ins | Optional | Included |
| Price | $49 | $99 |
| | | |
Use DAP on Intel-MAC


If you plan to use Windows DAP on MAC using one of the available virtualization tool see this following table.
In general, you can run Standard version of DAP on all intel-MAC without having the windows installed, only with the free wineskin tool. To run the DAP x64 PRO on a MAC you need a new Intel-MAC with 64-bit processor, 64-bit Win7 installation on either Bootcamp or VM Fusion. At this moment you can't use wine based tools (wineskin) with PRO x64, but it works great for the DAP Standard version.
Virtualization Method
DAP Standard
DAP PRO x64
Note
Wineskin/Crossover


Wine based tools
don't yet support
64 bit programs
Bootcamp


PRO x64 with 64-bit Win7
installed on Intel MACs
with 64 bit processors
Parallels


64-bit support may come
in the future to Parallels
VM Fusion


PRO x64 with 64-bit Win7
installed on Intel MACs
with 64 bit processors
DAP Standard: update to 2.6
Maintenance update
Added regular scroll bars for preset and browser
Presets, mouse wheel support
Preset window can expand
Presets/Browser window can use search (make sure mouse is in the preset window, then start typing)
Updated raw
DAP Standard: 2.55
Fix for occasional dark right border on vignette images
Better way of Distributing and Installing User templates (Menu tools: Archive/Install Template
DAP PRO x64 update to 3.2
Maintenance update
Added regular scroll bars for all presets and browser
Presets, material, canvas, overlay, mouse wheel support
Presets, material, canvas, overlay window can expand
Presets/Browser, material, canvas, overlay window can use search (make sure mouse is in the preset window, then start typing)
Updated raw
DAP PRO x64: 3.1
Added Overlay option + some GUI modifications to accommodate new tab
3.0.2 Fixes: custom canvas in canvas designer, save as layerd PSD crop original, loading non 24 bit images, loading psd files
Additions: Save layered PSD with masks, added switch in dry reveal pause to control the set
Features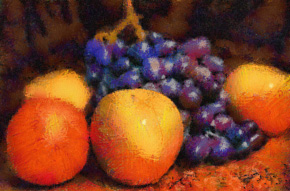 In a Nutshell:
Automatic, it does the painting for you
Real-world artists inspired techniques
It doesn't depend on the input image resolution
Add Non-traditional look to your photos or 3D renderings
Versatile output
Great easy to use interface
Integrated help
It is fun
Full of Surprising results
The arbitrary nature of the painting process is ready to uncover many surprises in your images.
Great Feedback tool for creative minds
Dynamic Auto-Painter can work as a great feedback tool to improve your photography skills. A painting will simplify the image to its core visual values allowing you to evaluate the overall impact of the image such as proper framing technique or good separation of subject from its surrounding.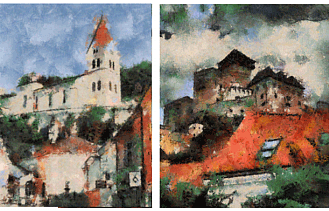 Looks Good when Printed
Unlike many off-the shelf painting effects the printed results from DA-Painter look stunningly painting-like. The Real Canvas option will add Canvas or watercolor Paper feel to the whole image even when printed on a normal non-textured paper.
It is in the details
The 64 bit version adds material and light properties where you can determine how the dried paint reflects light and then add various lights. The result will give third dimension to the brush strokes where you can see scratches and bumps in paint.
Add a new dimension to your creative tool-box
Both designer professionals and home users can appreciate the new creative dimension of a painting style as a counter point to the abundance of digital photography.
Versatile tool
If you feel like to create your completely new preset from scratch, you can. The interesting thing is that the set of brush strokes can be anything from colors to pictures of vegetables or coffee beans so you can really go wild.
Free Trial
Windows version


DAP x64
PRO Version:
3.2
(to save bandwidth on our server during the first few days of very high demand after initial release we use free file sharing providers for this file, this is only a temporary solution)
Update patch to DAPx64 PRO 3.2 from 3.1 (14/JAN/2013)
Mediachance: dappro32update.exe (~3 MB) This is a patch only, you need to have already previous PRO 3.1 installed
DAP x64 PRO works on Windows Vista 64, W7, 64 bit and W8 64 bit

DAP
Standard Version (WIN):
2.6
Download DAP Standard version for Windows 32 and 64 bit (58 MB)
works on Windows XP, Vista 32/64 and W7 - Windows 8 32/64
Update patch to DAP Standard 2.6 from 2.55 (14/JAN/2013)
Mediachance: dap26update.exe (~3 MB) This is a patch only, you need to have already previous 2.55 installed

MAC native "express" version, iPad and iPhone versions
AutoPainter Express is a non expensive "lite" version of DAP build natively for OSX. Similar functionality can be found in the iPhone and iPad version. All are on appstore.

DIY Virtualized version on MAC Snow Leopard and Lion
If the provided Wineskin virtualized version of DAP doesn't work, you can bottle it by yourself.
DIY guide how to run the DAP on MAC:
If you want to run the x64 PRO version on intel-MAC, you need Bootcamp or VM Fusion with Windows 7 64 bit installed.