The registration process is automatic and it runs outside our servers through SWREG or REGSOFT. The order is processed using their own secure servers. The credit card information never leaves those secure servers. In fact even we cannot see your credit card number in any way.
Vast number of orders are processed without any issue daily but following is what to do if you have a problem.

Here are the most common questions:

What should I expect after ordering?
If you ordered a software through REGSOFT you should receive an e-mail within few minutes with the order number. When the order is approved (it may be within another few minutes, but it can take also few hours) you will receive another e-mail with either registration number or download link.
If you ordered through SWREG you should receive e-mail with the serial number or download link. (Usually within few minutes after order). Paypal orders may take longer.

I didn't receive any e-mail
If you didn't receive any e-mail from SWREG or REGSOFT at all, a common problem is a spam filter in the e-mail client. Please search in your client all your mail folders including trash, junk or spam for SWREG or REGSOFT words. In most cases the mail will be there.
In very few cases the order simply didn't go through for a technical reason.

I checked everything, but still no e-mail!!!
You checked spam folder, it has been a 24 hours and still no e-mail: Try the CodeBOT below. CodeBOT receives a copy of your registration e-mails and it can forward it to you. CodeBOT usually responds within 10 minutes.
If still nothing, don't worry, please use contact form on the bottom of this page and we will manually check what is going on.

I ordered Bundles
If you order a bundle you may actually receive several e-mails each for one item in the bundle. It may happen that you receive some in regular mail IN folder but few may end up in the spam, trash or junk folder due to agresive spam filter settings. Again search for the SWREG or REGSOFT words in all your mail folders.

Order page shows that the order remains Unprocessed
If your order remains unprocessed after few days, a most common cause is that the charge on card has been declined by your bank because of incomplete data. You can try to resubmit the order or contact regsoft or swreg directly. (For security reason we have no access to your credit card data nor we can see the reason why the order has been declined)

Duplicate Order
If you made a duplicate order by mistake - don't be alarmed, we got some orders like this every month. It is very easy to send refund and there is no time-limit for refunds, we can process the refunds even months after the original duplicate charge.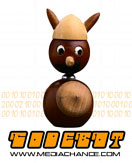 We created this friendly application CodeBOT which will fetch your lost registration code almost instantly. All what it takes is to send CodeBOT an e-mail to its own address.
CodeBOT has his very own e-mail which he checks every minute or so. (Yes, even THAT thing can have his own e-mail address these days)
All you need to do is to send him an e-mail to from the e-mail account you used during registration (important!) and put a Subject Lost Code so he knows it isn't a spam.
GMAIL users
Gmail seems to automatically place most e-mails with some kind of link inside (such as link to update, download or full version) into the spam folder of your gmail. CodeBOT often sends e-mail with a link to the software so if you use gmail, search for the response in the spam folder.
It reads the e-mail, search all databases and the result will be send to you. Also don't get too personal with it...
Info 1:
It is vital that you use the same e-mail address as during registration because that's what the little BOT is looking for. Also the subject must be Lost Code otherwise BOT will ignore it as a spam.
Info 2:
CodeBOT will send messages only to the address from which it received the "lost code" e-mail and this same address will be also used to look-up the registration info in database.
Info 3:
If you no longer use the e-mail you used during registration, then CodeBOT will be not able to help you, you need to contact us directly (see further down).
We are working hard to put all related information for the products on this site. Also each software has usually its own manual installed as a pdf file.
Your general question has been very likely already answered in the
web community forum
, which is also a great way to get some fresh idea or learn new tricks.
It is a great idea to try our software first before you hit the buy button. This is why we spent all the time creating free trial versions of the software.
Of course we still offer a money back guarantee.
You can subscribe or un-subscribe to our announcement list.
We will never ever give or sell your emails to anybody else.
In fact we use the newsletter very little by ourselves, often only few times a year when something really noteworthy occurs so you will not get bombarded by emails from us.
After you subscribe you will receive an e-mail with the subject 'Subscription Verification' to confirm the subscription (look in your trash or junk folders too). You will need to click on the URL inside the email to confirm that you wanted to subscribe to the newsletter.
Please note, there are some days far more busy than others and so the contact e-mails pile up in a queue. We try to fill all request daily, but sometimes it takes more than one day to go through them all.

GMAIL users
Gmail seems to automatically place most e-mails with some kind of link inside (such as link to update, download or full version) into the spam folder of your gmail. If you don't provide different e-mail than gmail - we won't be able to send you any links if you ask for them.