Windows Text Clipboard Expander
Your
new
best friend for working with text on Windows 7, 8, 10

Windows Clipboard Expander
adds multiple text clipboards to Windows:


Two Hot-key swappable clipboards
Instead of having only one basic in & out text clipboard you can now have two and switch
between them with a Hot-key.
Based on our in-office research (totally legit), we noticed that just having two text clipboards
improves the productivity more than twice!


How many times did you use Copy command only to realize that you had something else in clipboard and
that is now gone. Or perhaps you needed to repeatedly paste more than one text into multiple places of a
document and you needed to devise a little Ctrl+C and Ctrl+V choreography to get everything where it
belongs.
Despite the fact that Copy / Paste is probably one of the most used function on a computer, modern operating
systems don't really give you much to work with.
Here is our own productivity tool - a software that greatly expands and enhances windows text clipboard.
Cumulative text clipboard
Each copy command will be added to the previous text with a range of options for delimiter. This
is a great way to build a table, CSV text file for excel, string variable or line by line collection of
links by using only Ctrl+C command.
History Clipboard
This clipboard remembers all your copy operations and besides the obvious that you can recall
a text you copied many operations ago, you can do some advanced tricks. For example re-
arrange the items in history and then paste them in sequence by using a Hot-key.
Clippings - a permanent clipboard with categorization and encryption
If there is a text you use often, such as your address, email disclaimer, instructions for clients
etc, Clippings is the definitive place to go.
For a sensitive information such as credit card numbers clippings offers an industry strong
encryption with password.
Standard windows clipboard is very simple to use and we wanted to keep it that way with our Expanded
version as well.
We were very careful to make the interface clean, easy to use and to avoid unnecessary features that plague
similar tools.
Clipboard Expander stays most of the time in Windows Tray where
it works automatically.
Clipboard Expander has a clean Task oriented interface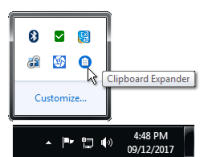 How to use? See Tutorial here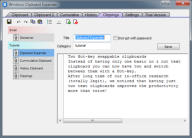 Little history
Many different iterations of this tool lived on our office computers and become a daily bread and butter. In fact
the oldest version dates back to 1997.
In twenty years nothing really changed with the Windows native text clipboard so it was a time to build a
definitive version of our tool, right from the scratch, now targeting the modern operating system.





If you like Clipboard Extender, check our unique screen
capture editor, image processor and image clipboard manager
now with PDF export.

One of many interesting features is that you can directly edit the text already in the clipboard from the
Clipboard Expander interface. Then just press the Send to Clipboard button!
This license can be used on

multiple
home
or on a single office computers.



Get notified about updates
Receive updates, new releases and discount offers