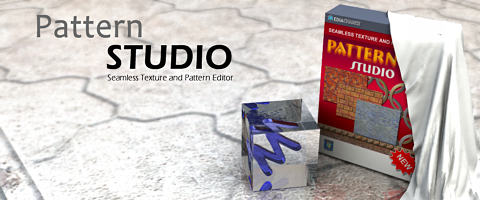 Pattern Studio is a special editor for creating seamless textures and patterns. Such textures can be used for 3D applications, cloth design, scrap-booking, web etc.
Pattern Studio uses VectorBit technology that combines vector tools with the pixel based image manipulation. On top of all this, whatever you draw or paint in it is always editable and always automatically seamless - without any additional work.
Overview
Overview
From seamless textures to complex interlocking patterns, Pattern Studio does it all.


It is ideal tool for 3D artist with its automatic Bump, Normal and Alpha Map export or a perfect addition for Scrap-book or Web designer with the palette of creative effects and options.
Highlights:
Flexible, non-destructive, always editable editing
Create never before seen realistic or Natural media graphics
High Pass filter and Perspective correction
3D lighting system
Robust project simplification using Packages
Export to Adobe Photoshop with separate layers
Scalable Megarender technology can produce multi-mega pixels output even from small few-hundred pixel canvas
| | |
| --- | --- |
| | Start drawing your texture or pattern from scratch. All objects are always editable and always seamless. |
| | Don't know where to start? Let Texture Shaker to help you to mix the right texture to start with. |
| | Create texture from your photos and then edit them with the clone tool or various brushes. |
Pattern Studio is uniquely versatile tool. It can create textures and patterns by drawing and painting from scratch, by using random Texture Shaker or from your photographs. And of course all combined together.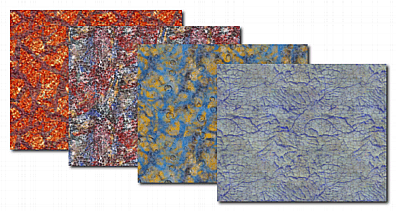 Features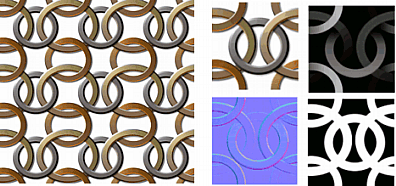 Bump Map export
Always Automatically Seamless
Whatever you draw or paint is automatically seamless. In fact you see the whole texture repeat right there during the design.

Vector-like Editing
Any object you create is editable all the time. You can change shapes, group objects, move them in layers, resize, edit envelopes etc. Any object has its own changeable properties like color, texture, outline, lights, material, transparency, multiple 3D effects, bevels, shadows, motion blur and much more.

Bitmap Editing
Unlike in a normal vector editor you can actually paint directly onto any vector object using airbrushes, 3D or Artistic brushes and special Image Nozzles. You can paint on the canvas and the strokes will become another seamless object to which you can apply effects, just as with vector objects. Importing images from disc allows you to create seamless textures from photos with special High Pass filter and Perspective Correction.

3D Effects
You can apply various bevels and extrude effects to any object or bitmap to create three-dimensional look. You can get even closer to rendered-like image by applying an unlimited number of 3D lights to any object or by changing its material properties. For example it very easy to create realistic metallic textures - often a big problem in standard vector drawing packages.

Scalable output
One of the Pattern Studio strength is that you can design in small size then export it with Megarender into much larger yet crisp output.

Texture Shaker and GenetX
Not sure how to start? Use Texture Shaker to generate a seamless texture and its variations with one click.

Non-Photo Realistic Styles
At any time you can switch the output to one of many Global NPR Styles for instant hand-drawn output using pencil, watercolor or even a paint. As any other feature in Pattern Studio, this is non destructive, you can easily switch between styles, go back to original style or tweak the current style to your preference.

Export to Adobe Photoshop
You can export the whole design into Adobe Photoshop keeping all the layers, transparency channels, shadow layers and layer names as you created them in Pattern Studio.
You can also use MegaRender technology to export large quality work to Adobe PhotoShop.
Tutorial
Download Quick Start Tutorial:
Seamless Mosaic pattern
What we will produce in this tutorial is a great looking mosaic texture complemented with correct Bump and Normal map.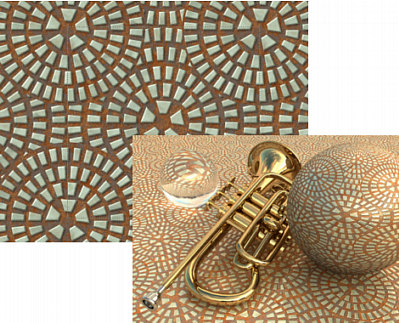 Texture created with Pattern-Studio and used in 3D software.
System Requirements
Minimum System Requirements
Microsoft® Windows® 7, Vista or XP (32-bit or 64-bit editions)
1 GHz processor or better
2 GB of RAM
1 GB of free disk space
Minimum screen resolution: 1024 x 768 (highly recommended higher resolution)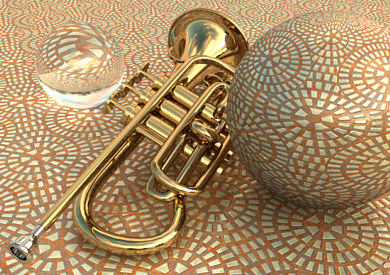 Texture created with Pattern-Studio and used in 3D software.
Free Trial

Platform: XP, Vista, W7 (32/64 bit) 57 MB
Version: 5.2.1

Pstudio5.exe

(34 MB)
This is a 30-day fully functional Trial version.
This file works for Windows XP, Vista 32/64 bit and W7 32/64 bit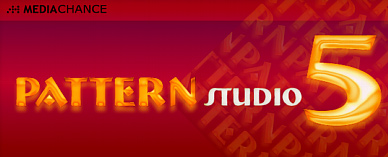 Video