Photo-brush is: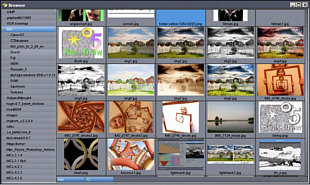 Photo-Brush image browser

Image Editor
Photo-Brush has all the necessary tools for editing and adjusting digital images: Adjusting levels, Gamma, RGB curves, Hue/Saturation, Brightness/Contrast and more..

Photo Retouch
With its special brushes and tools you can remove unwanted parts of your images, clean scratches, remove Red-Eyes, Clean skin of portraits, Cloning with Rubber stamp and more...

Painting Program
Photo-Brush is also an excellent painting program with its Pressure Sensitive tablet support. With texture painting, Artistic, Natural or 3D brushes you can create any work of art. With Cloning you can turn your photos into paintings.

Scanning Software
Photo-Brush has TWAIN 32 support for scanners as well as 32 bit film scanners. It has build in powerful Auto Dust Removal system.

Filter Heaven
There are many filters already build-in, but Photo-Brush can also use Adobe PhotoShop (tm) compatible Plug-Ins as well. It can run the plug-ins from anywhere in your computer, even from network drives.

Full bag of fun Effects
Try Warping or add a great touch with Image Nozzle! Add Lens Flare, Sparkles, Age the picture, Replace colors or Colorize black & white pictures; Add cool text in 2D, 3D, and drop shadow. The new effects include Fractal Droste or Little Planet.

Image Browser
A cool new multi threaded RAW/JPG Image Browser was added for your convenience. You can view image thumbnails in any directory on your disk, CD, network or memory chip.