Overview
For last couple of years the "HDR effect" became commonplace in artistic image manipulation but if used carefully, it can be a powerful secret weapon of any image processing toolbox.
From Beautiful Film Simulation to the HDR look
QuickHDR can easily create both beautiful natural images, simulating accurate film processing, as well as creating images with the popular HDR look. All from a single image.

Creative effects
You can as easy create powerful Black and White images or go to the dark side and start producing over-the-top HDR images.

No longer need for multiple-images.
QuickHDR turns the "HDR" into an effect that can be applied to all modern camera images without worrying about multiple exposures.

Why to use QuickHDR instead of full HDR?
We adjusted and calibrated our heavy algorithms developed over the years to give the users maximum benefits without all the common headaches of classic HDR tone-mapping operators:
No need to take multiple exposures, just use any of the pictures you already have
Accurate Preview unlike full HDR
It is much faster than any full HDR, changing values immediately produces visible results
We process each pixel in 128bit color depth (unlike the standard 24 bit) to be sure we don't introduce any unnecessary clipping
Batch Processing Power
Unleash the QuickHDR on your folders full of images. Unlike most HDR software, output from QuickHDR is quite predictable and can be easily applied to multiple images at once.
DPHDR vs. QuickHDR?
QuickHDR and Dynamic Photo HDR are perfect companions. Together they offer the best of both worlds:
The DPHDR's strong multiple image capabilities with HDR tone-mapping and HDR fusion, great for working with the real HDR images and the QuickHDR fast single image process for enhancing ordinary images.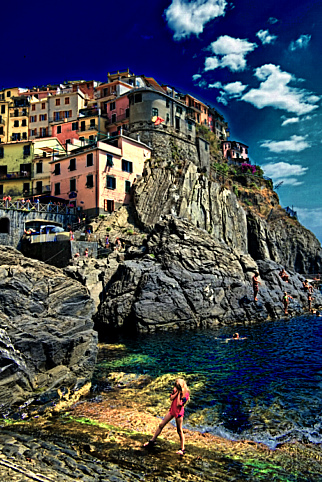 QuickHDR with extreme values using Polarizing Filter slider
Can single image produce HDR effect?
(Short answer: YES)
With the right image, the output from a single image can be indistinguishable to the full HDR process from multiple images. Here we used HDR (left) combined from three different exposures and then we tried to closely match that with a single exposure in QuickHDR (right).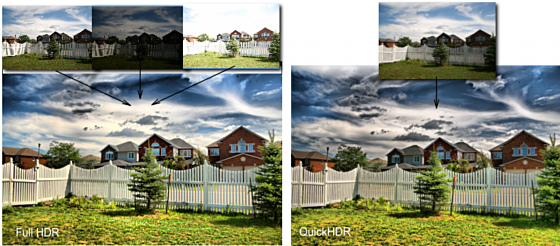 Obviously the purpose of full HDR process is to equalize uneven exposure by obtaining more dynamic range from multiple shots. Uneven exposure used to be a large problem with older cameras. Our test was primary to see if we can mimic the look of a real HDR image from a single image file of modern cameras - and yes, we can.