At a glance: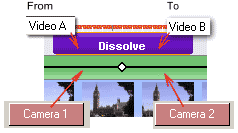 A camera cut is on separate layer
Unlimited Composition layers for Video, Text, Audio and Effects
Key-frame editing
3 point colour correction; this provides advanced color correction and color matching
Digital photo quality levels and curves controls
Chroma and Luma Key
Vectorscope, Waveform and RGB Parade scopes
DV, AVI, Windows Media and QuickTime export
Editing enhancements: autoripple, cut out, trimming in timeline, delete space, auto audio crossfade
Audio manipulation - 5 band equalizer, speeding, slowing
Adding Subtitles
All the expected Editing Tools for MiniDV and DV tape-based cameras
You can trim items directly on timeline with support for slip editing, to retain the items running time. Interactively adjust audio volume, balance and pan via rubber bands. Version 6 adds easy J and L cuts for linked items.
Composing Features
Interactively drag to move and resize the bitmap or video placement to create dynamic picture-in-picture or motion effects (i.e. the "Ken Burns- effect)
Motion paths can include mixture of linear and spline curves. Objects can be moved and resized by dragging with the mouse or entering coordinate values for accurate placement with instant feedback.
Effects & Transitions
There are not many other applications that come already with such a great variety of pro-grade effects. Chroma Key, Luma Key, Realistic Old Film effect, Flare, Color and Gradient filters, Route Tracer for animated routes or graphs, Knock Out for removing on-screen text or graphics and much more. Effects can be applied also only to a circular or rectangular region of frame. For example you can blur out a face of a person and then keyframe the blur region to move with the person.
There are also many user customizable transitions, over 100 transitions are provided, more available through Herb Garden.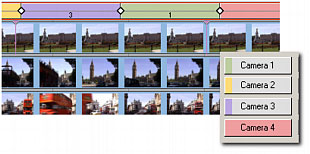 You can cut to video using buttons or keyboard shortcuts
Text and Titling
Very few packages come close to the text functionality of EditStudio. Titles supports stationary text, as well as scrolling text, credits and crawling motion with many motion presets. You can mix fonts and styles, outline, glow or drop shadow. But that's not all! Letters of title can ripple, twist, come to screen one after another or use staggered effect. You can also insert a special purpose tag that can display a counting timecode or frame number (for example for creating production copies)


Keyframes
Here we go to the area where only true professional packages will let you. You can set key-frames for frame (video, image) placement, audio and many effects, then edit key-frames directly on the timeline. Linear, step and spline interpolation types are supported, along with ease in / out acceleration.
Capture
EditStudio has integrated analogue and DV capture with automatic scene detection using optical or DV timestamp methods. Also you can preview directly into DV device.
List of included Import/Export plug-ins
EditStudio 6 is supplied with many high-quality internal import/export plug-ins to overcome the common codecs nightmares, but works also with other DS codecs for added flexibility:
DV file with smart rendering: Internal Import/Export
Windows Media 7,8,9: Internal Import/Export
Quick Time: Import/Export (require QuickTime installed)
AVI (DIVX, XVID, MJPEG etc..) using available DirectX codecs. (*See Note)
MP4, H264 AVC Import (require QuickTime 7.3 and ffdshow, use K-lite Codec Basic pack for many supported formats)
Frame-Serving to other applications using free Debugmode Frameserver
Note: DIVX or XVID formats were developed as highly compressed distribution formats and are not very suitable for video editing (quality and speed issues)