Because of popular demand and millions of downloads over 5 years we released a PRO version that has more functionality and a better visual integration. The free version is still available.
Note: The software was originally developed for our own internal usage and so it reflects our own requirements.
If you thinking about buying the commercial license, please try the trial version first to see if it suits your needs.

Version 3.5, even more lightweight, now with caption buttons on Vista/Win7.
The PRO version now fully supports Vista/Win7 32 and 64 bit.
New: 11.FEB.2013 - Verisign certificate added to v.3.5
MultiMon TaskBar
Delivery Method
Download
Free v2.1
0 USD
This is a free personal version of the older MultiMonitor TaskBar 2.1.
PRO v3.5
Personal and commercial single license of MultiMonitor TaskBar PRO. Works on XP/Vista/W7 32/64 bit.
At home it can be installed on ALL your personal computers. At work it can be used only on a single computer.
Commercial Site
Full Commercial Site Licence. It can be installed on all computers in your organization (wordlwide) without limitations. Easy setup for admins - no serial code to enter, just install and that's it.
Overview
"Give someone a second monitor, let them use it for while, and then try to take it away. It just isn't going to happen.",
Suzanne Ross, Microsoft Research

The real multi-monitor support in Windows has task-bar only in the primary monitor that shows applications from all monitors. The extended monitors are plain without any taskbar. There is no other way to add another taskbar to the extended monitor.
Normal Windows extended to multiple monitors:

All windows are displayed on the primary monitors taskbar regardless on which monitor they are opened.
With MultiMon TaskBar

We created MultiMon taskbar to solve this issue in our office. It creates a second (and third) taskbar which will be put on extended monitors. Each taskbar display items from that monitor only.
The PRO version has additional features such as resizing windows to multiple monitors, moving to monitors, suspending the extended taskbars when the computer is connected via Remote Desktop and themed captions.

Super-lightweight
The goal was to create it as "lightweight" as possible without any of the fluff and junk typical in modern software. The application is all about 500kB. That's it.
The new version 3.5 now doesn't use any API hooks and its CPU footprint is essentially zero.

The Caption Arrows are back in 3.5, now even in Windows 7 or Vista SP3. To keep it as lightweight as possible, and in line with the recent tighter Windows UAC security, the caption buttons appear on the currently selected window and are not API hooked to the caption bar (as it was in previous versions) but overlayed on the top. This has the benefit of being completely independent of any application or windows service packs and windows updates. Having no API hooks or COM lnks makes the MultiMon a very stable, lightweight and fully separate application from system.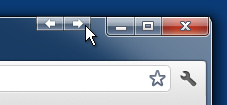 Features
TaskBar 2.1 (freeware).
It adds second taskbar to the extended desktop on Monitor 2
It can add third taskbar to the second Extended monitor if you have 3 monitors setup.
It shows only applications from that Monitor
It hides the applications on Monitor 2 and 3 from normal Windows Taskbar
Adds a Move to Monitor button to windows applications (XP only).
Add Text Clipboard Extender
Buttons to roll-right the taskbar (good for full screen Remote Desktop)
Very carefully written, we don't want to crash our own desktop!

TaskBar PRO 3.5
Additionally to the free version
Version 3.5 doesn't use any API hooking, it is super lightweight and doesn't affect or hook into windows or the applications.
The Caption buttons (arrows) now work in all OS, including Windows 7
Works on both 32 and 64 bit OS
Support for Windows XP, Media Center (Royale on XP), Vista (Royale Noir) and Windows 7 themes
Add buttons to resize window across two or three monitors (good for spreadsheets etc..)
Move To Monitor buttons on the extended taskbar can move even special windows like Remote Desktop Client
Better handling moving windows across screens with different resolutions
Monitors Remote Desktop and can Suspend itself when you are in RD session, then restore itself after RD session is finished
Support for dual monitors if the primary monitor is on right
Caption (arrow) buttons to quickly move window to monitor
More consistent behavior of taskbar - cliciking on selected item will now minimize its window, like with original windows taskbar

Tip: To change theme of your Multimon PRO taskbar click the Properties Button (or right click on empty space of the Multimon taskbar), click on Properties item in menu and change the Appearance. The theme of the MultiMon is independent from the Windows theme, so you can run Classic theme on your main XP taskbar and Vista theme on your extended Multimon taskbars.

XP Royale theme: Royale theme is a special XP theme from Microsoft that was later used on XP Media Center Edition (blue version) and it become also blueprint for Vista theme (noir version). So if you use blue Royale theme on your XP, select Windows Media Center theme in MultiMon to match the taskbars. If you use Royale Noir, select Vista theme to match the taskbars.
Vista Tip: Vista use hardware acceleration for its aero theme with direct writing to the display buffer. It would be therefore risky to add arrow buttons to the aero application bar. However the "secret" hotspots for the arrow buttons (visible on the XP and Vista classic) are still there and fully functional.
Clipboard Extender
A simple but cool Text clipboard extender can be added to the toolbar. It can be also rolled in or totally disabled.
This little box will capture all text Copy to clipboard operation and store. Other hidden functionality of Clipboard extender:
F3 - Search. Type any text and press F3, it will quickly search for the presence of this text in all stored copy operations and select matches.
F5 - type any text and it will try to execute it. Type for example calc and press F5
Return - type any text and press return, it will be added to the clipboard list (and also copied to clipboard)
DEL - unroll the combo box so you see multiple items, Move cursor over item so it is selected (but don't click) and press DEL to remove it from list.

Resize across monitors (PRO version)
Many programs, like spreadsheets, text editors, graphic programs have a MDI interface which means all client windows can be positioned only within the main program window. You can't display documents in single application side by side on different monitors because you are still limited within the main application window:
Taskbar PRO has simple buttons to resize the main window across two or even three monitors and you can then simply move the documents around side by side.

FAQ
Can the free version be used in commercial environment (work, office)?
Yes, but please note, the free version 2.1 was last updated in 2005. It was mainly developed for XP.

Can the single personal license be installed on multiple home computers?
Yes, you can install it on all your home computers, now or in the future.
At work the single license can be installed only on a single computer. For multiple work computers you need to either purchase multiple licenses or Commercial Site license.

Is the Commercial Site License biound to a single location? (like one building etc...)
It can be used everywhere where your admins can install it, in all your offices, buildings around the world.

How intrusive is the application to the OS?
The main goal was to make it as lightweight as possible (even if it means cutting on extra features). There are many docks or windows modds that easily eat half of your computer power and this was the first thing we wanted to avoid from the very beginning.
With the 3.5 release all dependencies on windows API hooking were removed. It is now no more intrusive than notepad and probably it also uses as much CPU as notepad (zero).

Does it works on all monitor configurations?
At first this was made for our own usage and it is a specific software so it may not work on all configuration. It normally should work for any side by side 2 monitor sittuation and with 3 monitors the main monitor (with the windows taskbar) needs to be in the middle. It works only on the typical side-by-side arrangements, not for vertical arrangements. There may be also some issue if the monitors have each very different resolution.
But in any case, the trial version is especially build for the purpose so you can easily test it.

Why doesn't the extended taskbars look indentical to the main taskbar in Win 7.
We wanted to make it non intrusive and functional. The color scheme is there to blend in, not to mimic all the effects and flavors of the recent interface trends. We may improve on that as we go, but the main goal is the lightweight functionality. The application is 500kB, something of a rarity these days.

What is the ECCN (Export control classification number)?
The software is not controlled by CCL and it is designated as EAR99
Tips
Combine two or more computers into one integrated computer system.
Multi-Monitor system will make you work faster and more comfortable. But it will not speed-up the actual computing power. What if there is a need to double the CPU? For example you use two process intensive application, like for example video editing and 3D rendering, all at the same time.

A good idea is to actually have two networked computers, each for the specific task where you would use a hardware KVM switch and a software KM switch such as the free Synergy.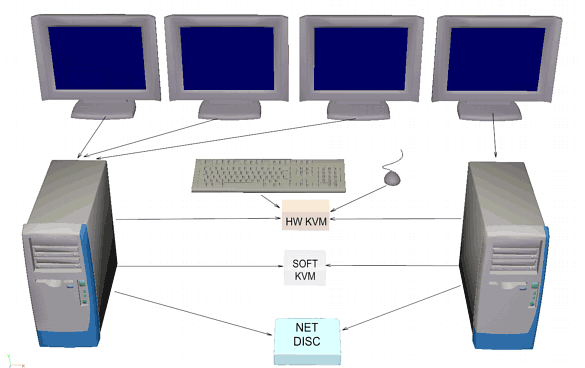 Software KM switch will allow a seamless mouse and keyboard transition from one computer to another via network connection. You simply move the mouse cursor to the edge of your monitor (or multi-monitors) and it will automatically transfer control to the other computer - no need to press any hotkeys. The illusion is as if you have one big multi-monitor system (except of course you cannot move program window from one computer to another). Also software KM switch usually handles the copy and paste between two computers so the illusion of one system is pretty good. Synergy is free and there are various commercial systems too.
You may ask why we need two KM switches, one software, one hardware - for a simple reason, software KM switch works seamlesly which is very convenient and give you illusion of one big desktop, but you need both computers running. If you switch ON only one computer, the client which has no keyboard/mouse plugged in, you are out of luck. Here the hardware KM switch come to the rescue! The same KVM switch helps you if your network gets cranky.

System Requirements
Multiple Monitors
Windows XP, 2000, Vista and W7 (Try it first as systems vary and also user restrictions may prevent the taskbar from running)
The 3 monitor setup expect to have Primary monitor in the middle.
Downloads
It is essential to try the software first before making any purchase. We did it for our monitor setup, then extended it to accept more different setups but it is not fully universal software - it may not work well if you have different resolutions on monitors etc... Try it first!
Note: If you upgrading from any previous version or uninstalling, you have to close the multiMon first (Right Click on the extended task bar or click on the MM icon and select - Unload MultiMon)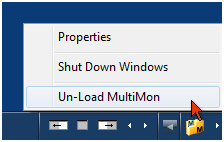 MM Taskbar Free 2.1
(this was developed for XP and it "sort of" works on Vista/Win7)
MMTaskbar21.exe (~500kB)
MM Taskbar PRO 3.5 (Trial)
(This fully supports XP/Vista/Win7 32 and 64 bit)
MMTprotrial35.exe (~500kB)
Previous version 3.0: MM Taskbar PRO 3.0 (Trial)
(This is for legacy purpose, in case it works better for your configuration)
MMTprotrial3.exe (~500kB)